Wellington, FL – March 13, 2019 – The opening day of competition at the 10th week of the 2019 Adequan® Global Dressage Festival (AGDF) on Wednesday, March 13, featured the Nations Cup CDIO-U25 presented by Diamante Farms with victory for the team from the United States of America. Canada 1 team was silver, and the Canada 2 team took bronze. Nations Cup competition continues through the week with the FEI Nations Cup™ CDIO3* presented by Stillpoint Farm, where team medals will be decided on Thursday, March 14. Competition for the week continues through Sunday, March 17, with CDIO3*, CDI 3*, and CDI 1* classes, and the 2019 AGDF wraps up on Sunday, March 31.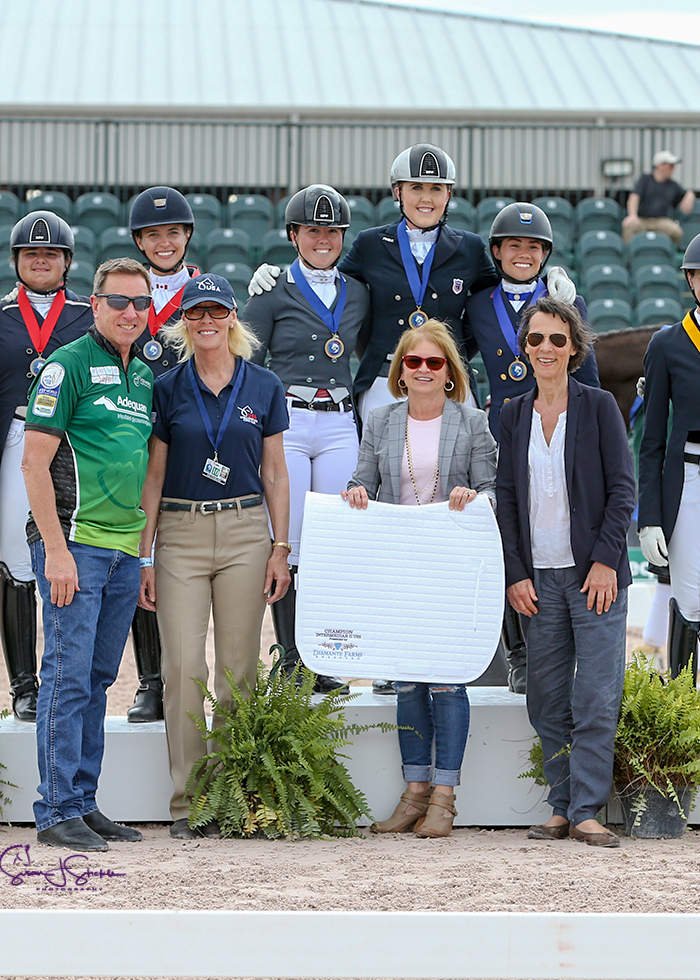 For the third year, AGDF hosted CDIO-U25 competition, offering a great stepping-stone of international competition for young riders. The team from the USA consisting of Lauren Asher on West Side, Natalie Pai on Unlimited, and Kerrigan Gluch riding Bolero CSLVIII, finished on a total team score of 138.559 in the FEI Intermediate II 16-25 test, which determined the team medals.
Asher (22) originally hails from Denver, CO, and she rode the 16-year-old KWPN gelding by Florett AS owned by Select Equine International to a personal best score of 70.471%, which was also the second-highest score in the class.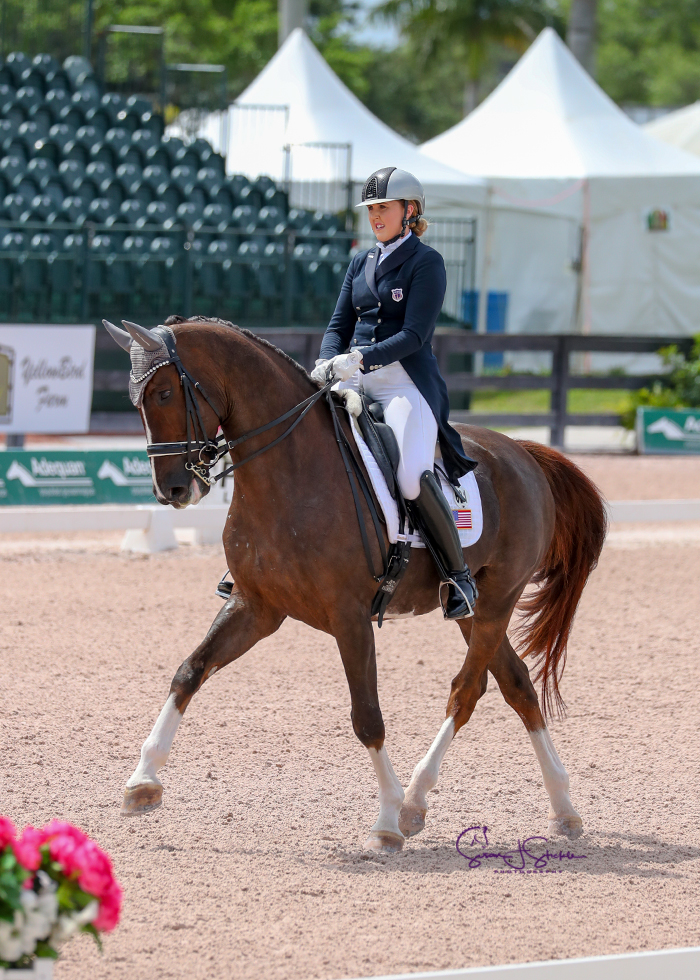 "I just had a good feeling going into the competition all week," said Asher. "Then to have my horse be there for me, especially on a big day like this, it was just great. To have a good feeling continually throughout the test is just exciting. I'm really happy.
"The best movement in my eyes was the piaffe at A," she continued. "It was so fantastic; it was such a nice feeling too. Always when you have a good feeling and a good sport, it's really special."
For Pai and Unlimited, an 18-year-old KWPN gelding by Jazz owned by Melanie Pai, it was a personal best for their I-2 test, which was needed as she had to score above 67.142% as the anchor rider. Her score of 68.088% gave USA the win. Pai (21, originally from Middleburg, VA) and Unlimited finished in third place in the class overall.
This is Pai's second time competing at the CDIO-U25 at AGDF. "It's always super fun being able to be on a team and be a part of something. As always, thank you to the [team at] the United States Equestrian Federation and everyone for making this possible and having everything run smoothly for us."
Gluch, who is 22 and is originally from Mount Pleasant, MI, has had a long and successful partnership with Bolero CXLVIII, who is owned by Hampton Green Farm. "I thought actually today was the best test I've had on him in the show ring," she said of the 15-year-old P.R.E. stallion by Utrerano VII that she has ridden for almost three years. "Every moment, he was with me. He's a very honest guy, but today, he was even a little extra, which is something that's really awesome to feel. I thought our changes were super today. He gets a little excited in them, and today, he relaxed and settled down and had some nice changes."
Gluch and Bolero placed fourth in the class with a solid performance of 66.853%.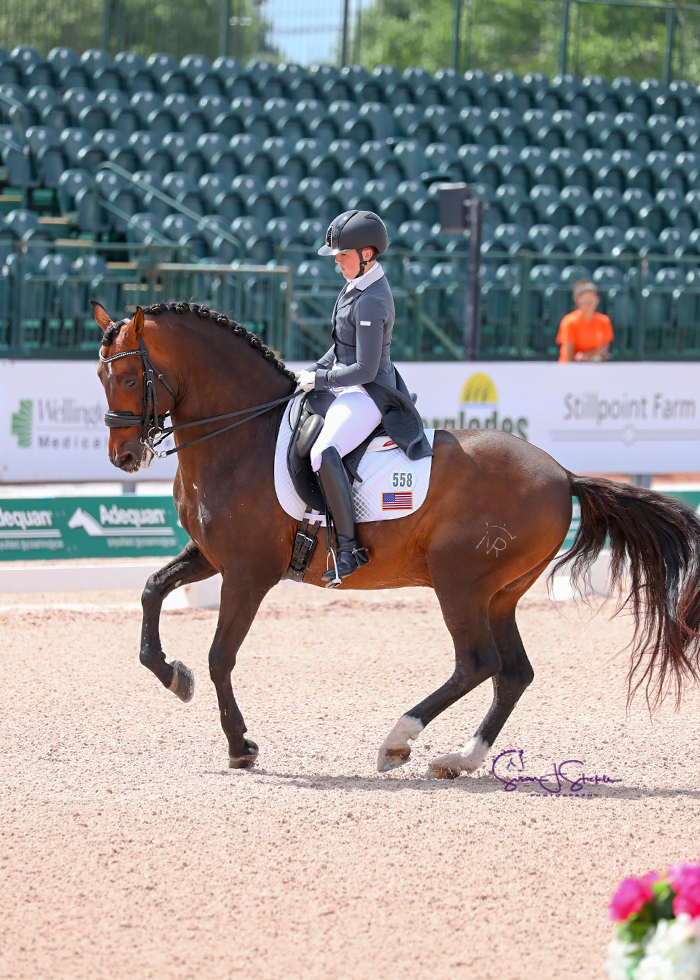 Finishing just off the pace for the silver medal was the Canada 1 team, who had a total of 137.882. The team consisted of Naima Moreira Laliberte (22, Montreal, Quebec), Laurence Blais Tetreault (22, Montreal, Quebec), and Tanya Strasser-Shostak (23, Sainte-Adèle. Quebec).
Riding I Do Kiss, a 13-year-old Swedish Warmblood stallion owned by KML S.A.R.L., Moreira Laliberte had the highest score of the class with a 71.706%. "This was a personal best today, actually the best he's ever felt for me, so it's nice to see some results from the work put into it," she said of her partner of two years. "It's really rewarding."
Blais Tetreault had a fifth-place finish in the class on a score of 66.176% on Utah, an 18-year-old KWPN gelding by Jazz owned by her sister, Mathilde Blais Tetreault. She was very happy with her team experience.
"I've been with those two girls doing juniors, young riders, and now U25, so that's just awesome," she said. "We know each other really well, and we know we work well on a team, so that's the cherry on top for the experience. And the horse was good too, so I'm happy with it."
Strasser-Shostak and Déjà vu Tyme, a 12-year-old Hannoverian gelding by Dauphin owned by Erika Murphy, was very happy with her horse of two-and-a-half years. "When we first got him, he was really green with everything, with show experience and just generally in his levels," she said. "I'm really pleased with how he's progressed within the time that we've had him. I never would have thought that I would have him in a Nations Cup in two years, if you would have asked me at the time. I'm just really happy with the way he's been handling the environment, and just generally his work ethic has been really great."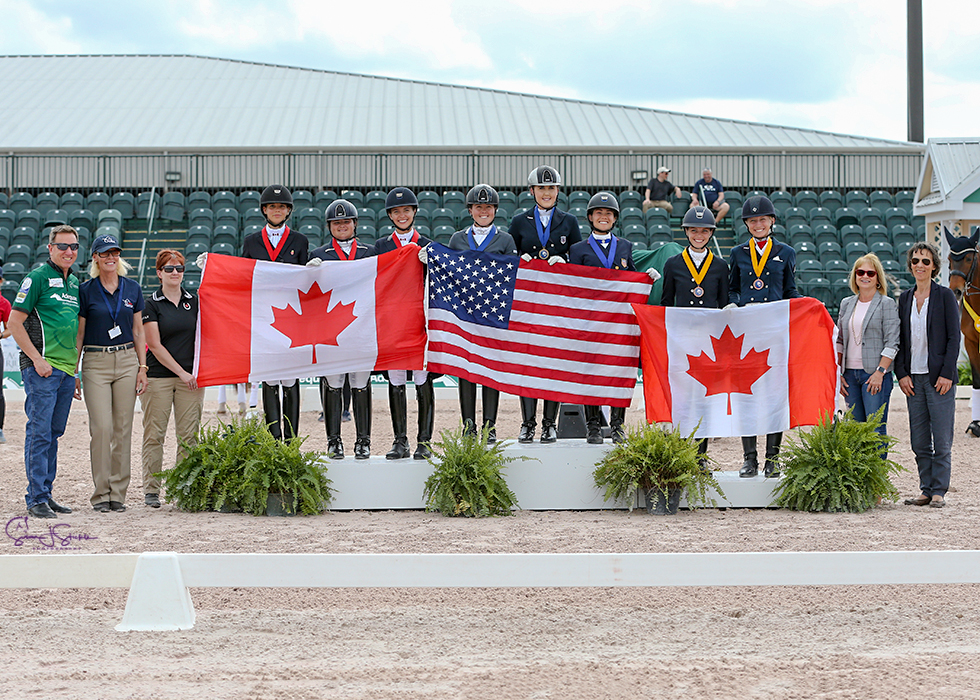 Canada 2 team finished on a total of 118.441 for the bronze medal. Vanessa Creech-Terauds (19) of Caistor Centre, Ontario, had a solid test for a 64.059% on Hallmark 3, a 15-year-old Hannoverian gelding by His Highness owned by Leatherdale Farms.
Courtesy of Richard's Equine Video
Press release